At Gnathodontics Dental Lab, we believe that education never ends. Please join us to advance your knowledge, earn continuing education credits, and network with other dental industry professionals. All events are held in our state-of-art dental laboratory.
Choose your event and register, it's just that EASY!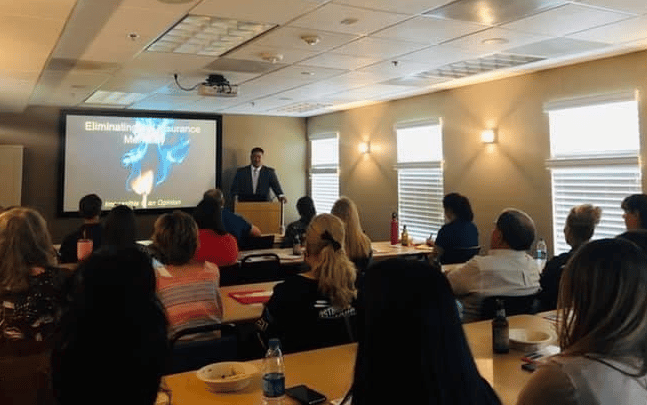 Upcoming Courses
Digital Dentistry Implant Workflow for Specialists to Restorative GP's
Presented by David Marten, Digital Dentistry Specialist
DATE
Thursday, April 13, 2023
SCHEDULE
Lecture 6:00 pm-7:00 pm
Dinner served at 5:30 pm
COURSE FEE
FREE – 1 CE Credit Hour
COURSE OBJECTIVES
Implant dentistry is evolving rapidly
due to digital technology. This lecture
will focus on ways a digital workflow
can enhance communication between
the specialist, restorative doctor and
lab, thereby improving safety, accuracy
and efficiency in implant dentistry. This presentation will encompass digital impressions, guided surgery, and immediate temporization techniques to enable final prosthesis predictability.
RSVP by APRIL 10, 2023
Natalie Porter – Gnathodontics Account Manager
970-631-4546
nporter@gnatho.com
LEARNING OBJECTIVES
• Discuss CBCT technology and its incorporation into implant treatment planning
• Review restorative options, custom abutments, milling
• Discuss digital impression systems for final implant restoration
• Increase case acceptance
• Discuss how information from both digital systems can be merged for a surgical guide and immediate temporary restoration fabrication
INSTRUCTOR
Presented by David Marten
Join our email list
Stay informed about our upcoming events by joining our email list.