Fixed Implants
As a full-service laboratory, we believe in staying on top of the latest innovations in the field of dentistry. As implantology continues to grow with new products and techniques, Gnathodontics can provide your patients with the latest state-of-the art materials and procedures for all types of implant cases. Gnathodontics has been involved in fabrication of implant restorations since 1988. Our team has hundreds of hours of continuing education in the field of implants. We are always available to assist you with creating a cohesive case plan and design, as well as providing you with pre-surgical cost estimates. From start to finish we will work closely with specialists and the restoring dentist to create a treatment plan that is ideal for each patient. You can count on Gnathodontics to provide you with our best, from the choice of implant and abutment, to crafting a gorgeous final restoration to your specifications.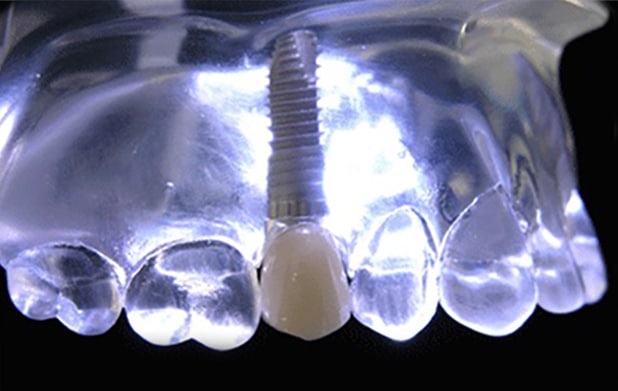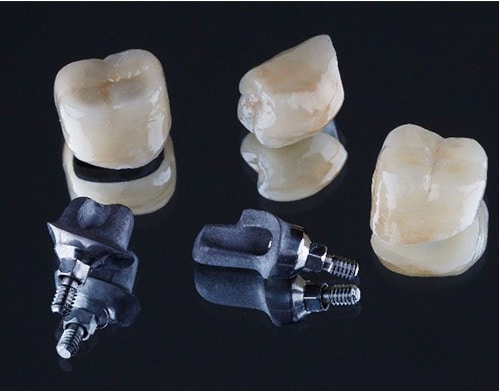 Non-Metal Fixed Restorations

MILLED OVERDENTURE BARS AND FIXED HYBRID BRIDGE CASES
Using the high tech NobelProcera Optical Scanner, we scan and design milled overdenture bars and fixed hybrid bridge cases from your model work. The system works with all major implant systems and due to the precise scanning and milling process, provides fits that are superior to those of cast gold bars. Additionally, the use of milled surgical grade titanium substructures instead of cast gold has made doing these types of cases more cost effective than ever! Gnathodontics Overdenture Bars and Fixed Hybrid cases provide the highest levels of biocompatibility and the substructures are 4X lighter.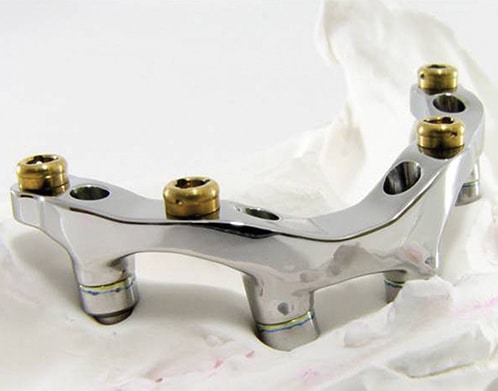 Custom Implant Abutments
Designed by our skilled and trained technicians who work diligently to make sure the end results are superior for you and your patient.
Gnathodontics sends the digital design to be manufactured by the Parent Company.
List of Companies we use: Nobel Biocare, Straumann, Zimmer Biomet, BioHorizons, Implant Direct, Hiossen, Dentsply Sirona, and others.
Gnathodontics offers an economy abutment that we call EPIC- Economical Prosthetic Implant Crown, with a savings of up to $129. Made in the USA, and comes with a warranty. For details and pricing please contact Beth in our CAD/CAD department.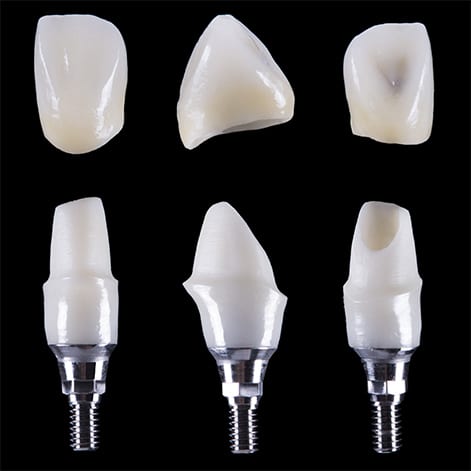 *A complimentary 3D printed seating jig included with every implant case in order to ensure the accuracy of every abutment placement.
How to take a Successful Intraoral Scan
Don't see your scanner? Please call Beth Keely, CAD/CAM Manager or Brenda Boone, co-owner, to find out how to connect with Gnathodontics. When it comes to intraoral scanning, there can be a learning curve with IOS impressions. Let Gnathodontics help guide your office throughout the process. We specialize in communicating with your office by sending images via email or text to help guide your office through the transition from taking traditional impressions to IOS impressions.