At Gnathodontics we are pleased to offer the latest pressable materials from Ivoclar Vivadent. IPS E.MAX PRESS is a proven, high strength lithium disilicate pressable ceramic. The range of available shaded ingots allows Gnathodontics to fabricate restorations with a high degree of translucency or maximum opacity for optimal masking ability. This material, when used in its monolithic form, exhibits clinically proven strength and longevity for posterior applications.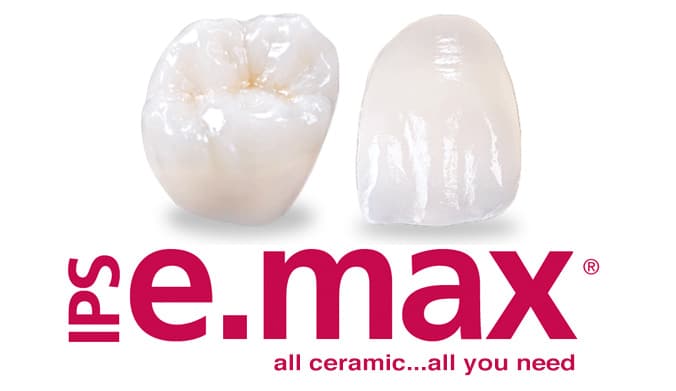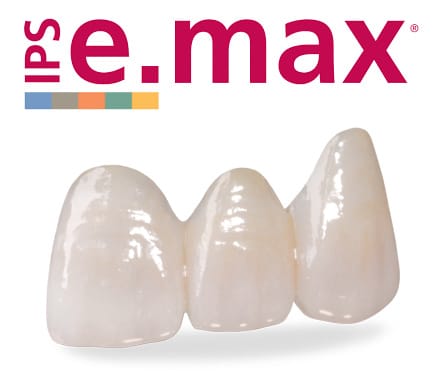 ANTERIOR E.MAX
For anterior applications, when combined with E.MAX Ceram porcelain, the material delivers the esthetics that we have come to love and expect from Ivoclar's original Empress Esthetic restorations but with the advantage of increased strength. Our ceramists fabricate your anterior restorations very similar to the original IPS Empress technique. The crowns are waxed and pressed with a cut back of the incisal one third so that we can layer translucent porcelain to achieve the esthetics your patients require. The functional lingual surface is worked out in wax, pressed and left in a monolithic state for maximum strength, thus combining the best of both worlds, Beauty AND Strength!
POSTERIOR E.MAX
When you send a case to Gnathodontics prescribing E.MAX in the posterior, you can always expect to receive a crown that is fabricated in the monolithic form. Ivoclar's studies show the material to have a flexural strength of 400 MPA when pressed to full contour. We have consistently achieved outstanding results with this technique and feel this should be the preferred method for fabrication of posterior crowns when using E.MAX Press. Ivoclar's studies have shown that the press technique has slightly higher compressive strength results than the milled blocks. Our ceramists have the convenience of using one layering ceramic (E.MAX Ceram) when fabricating crowns and veneers. This allows for greater control when fabricating combination cases. (Please remember to include a stump shade with each E.MAX or EMPRESS case). The high strength of IPS E.MAX lithium disilicate allows the dentist to choose between adhesive bonding and conventional cementation techniques. Adhesive resins, such as Variolink, offer higher immediate bond strength and better marginal seal and therefore are recommended in any clinical situation where proper isolation can be achieved. A universal adhesive resin such as Multilink Automix, can also be used where preps have proper retentive design and adequate material thickness. E.MAX is suitable for crowns, veneers, inlays & onlays and 3-unit bridges for both anterior and posterior regions.
non-metal fixed restorations